About us
History
F.J. Geddes Optical was established in 1926 by the original 'FJ' Frank Geddes. His aim was to provide Sydney's Ophthalmologists with an accurate and reliable dispensing service for their patients. The business flourished in the heart of the CBD first at Park Street and then at 80 Elizabeth Street.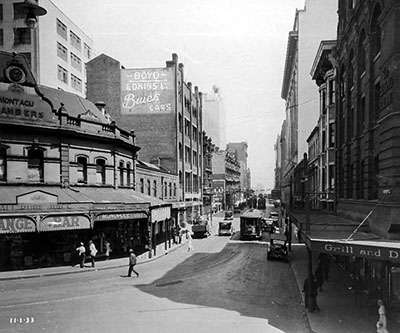 Elizabeth St, Sydney - 1933
After Frank's death in 1964 his son James (Jim) then took over and secured premises next door at 82 Elizabeth Street. Jim also set up outlets in Chatswood, Hornsby and Leichhardt. Jim however found it hard to find the right trained and qualified staff needed to uphold the high level of service the company was renowned for, in the end concentrating on the one outlet in the CBD.
In the early 1980s Jim welcomed his sons Greg and Frank (both qualified, licensed Optical Dispensers) into the business and moved the showroom and workshop to 'Park House' in Macquarie Street.
Barry Simpson of Simpson and Buddle Spectacle Makers joined the team in 1993 after Barry's colleague Ross Buddle retired. Barry contributed greatly in the building of the business until his retirement in 2000. Many of Barry's and Ross's clients continue to see the Geddes family for their optical needs to this day.
In 2007 Optometrist Hilde Rypdal brought her expertise in eye testing and contact lens fitting to the firm. She also refers to many of Sydney's leading Ophthalmologists located in the building.
In 2009 the New South Wales government deregulated the Optical industry abolishing the Optical Dispensers licensing Board. Some big businesses have been pushing this agenda for years.
Before this decision prospective Dispensers had to complete a TAFE course and then 700 hours of practical work just to apply for a licence.
Now anyone can set up an Optical practice regardless of experience or training.
Our ethos remains unchanged however and we will only employ qualified Optometrists and Optical Dispensers.
Or customers deserve it.